We can make trendy haircuts look great on any noggin.
There are some trends that we look back upon and shudder (looking at you, orange shag carpeting and anchor tattoos!). While there are many trends that you can go ahead and avoid, trendy haircuts don't have to be one of those trends! In fact, trendy haircuts can help you feel current, in-the-moment, and stylish. Here at Salon Povera, we can help you with all sorts of haircuts, including the trendy ones.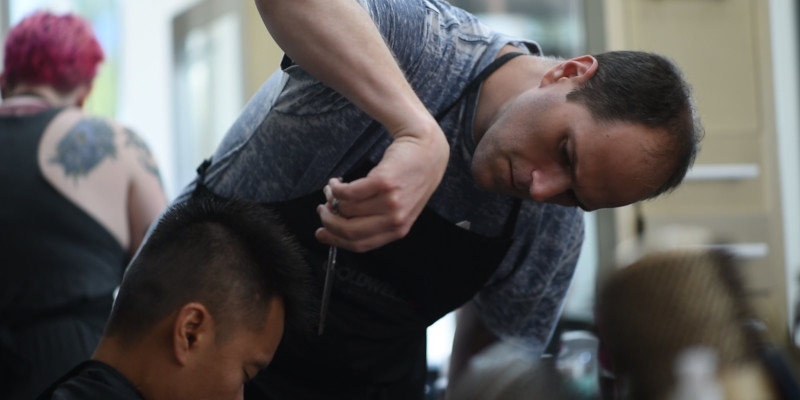 When you have a new hairstyle on the brain, our experienced and talented stylists here at Salon Povera would love to empower you with a versatile haircut that can be adapted to your own personal look. Many people do not realize that taking the exact haircut you see from a magazine may not be appropriate or a possibility with their own hair type. At Salon Povera, we consider your desired look and will alter and adjust it to make sure it will look great on you, not just the model posing for the picture.
At Salon Povera, we help our clients from all over North Carolina who arrive at our Durham salon feel inspired to make the choice to choose a hairstyle that makes them feel strong and worth respect. Coming to our salon can feel as relaxing and comfortable as spending a late night-out at the local dive bar with your friends, except instead of leaving with a hangover, you can leave with fabulous hair!
We would love to tell you more about our styles, coloring choices, trendy haircuts, special occasion hair and many, many other services that will leave you feeling wonderful about your look. Once you've tried Salon Povera for trendy haircuts (or anything, really!) you won't have any desire to try out anywhere else! Give us a call today to make an appointment or learn about our services.
---
At Salon Povera, we offer trendy haircuts to residents of Durham, Raleigh, Chapel Hill, Cary, Garner, Holly Springs, Morrisville, Wake Forest, and Apex, North Carolina.