With a hair stylist like ours, you will love your new look!
Your hair style has the ability to make you feel confident or sheepish, ready to get out there or ready to hide your hair under a hat. The biggest difference in your hair style isn't just your hair, but what your hair stylist can do for you! If you are looking for a hair stylist to make your hair look and feel better than you've ever seen it before, Salon Povera is the place to be.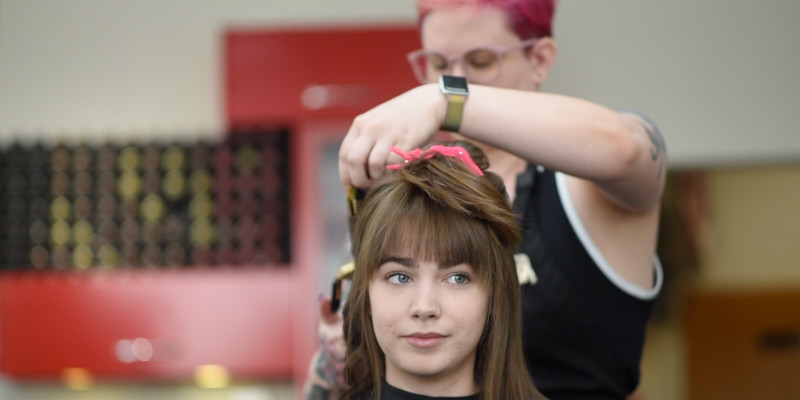 Your hairstyle defines who you are . . . and you define your hair. Let the world understand your identity at a glance . . . no more questions. You are who you are, and there is no ambiguity. You make the choice to invest in your hair with a bold style that says "yes" to challenges and new adventures.
Our Stylists
At Salon Povera, our hair stylists work a little differently than many other salons. Instead of just asking what you are looking for, we will take a little more time to look at some of your likes and dislikes, ask you about your hair care regimens, learn about how much maintenance you are willing and able to put into your hair style, and even give you some suggestions about what they think would look good on you. Because we take the time to talk to our clients, we find that many are able to walk out with a hair style that they are much happier with than if they were to just sit down and show us a picture in a magazine, which may or may not work for their hair.
With a hair stylist from Salon Povera working on your hair, you can get a customized cut, color, and treatments like permanent waves, curls, balayage, ombre, highlights, and bold, non-traditional colors. We like to treat our Morrisville, North Carolina clients like members of the family so that we can talk together comfortably and find a style that is your own that will work for you! To consult with a hair stylist at Salon Povera, contact us today and gain confidence you didn't know you had.
---
At Salon Povera, our hair stylists proudly serve residents of Durham, Raleigh, Chapel Hill, Cary, Garner, Holly Springs, Morrisville, Wake Forest, and Apex, North Carolina.